Welcome to my studio! #
My Setup #
OpenMPT #
Most of the music I write (and have written) is done using the software OpenMPT which is an open source music tracker program. I have been using this for over 12 years now and it has become the most comfortable music software for me to use.
Logic Pro #
For a lot of projects I have utilised Logic Pro on the Mac to compose music, with 7 years experience of using it as a full-on DAW I can professionally produce and mix within this software. I learned how to use it on my music-tech course at college.
Synthesisers/DTMs #
I was on a quest to make the ideal late 90s synth studio, one that VGM composers of the day would have either had or loved to have had! On my computer I use Sekaiju to sequence the songs, another piece of open source software that I have been using for a long time.
Pictures #
Taking pictures of my computer isn't particularly exciting, so instead I have this space dedicated to my outboard gear. THis is how I compose authentic 80s and 90s styled music, using synthesisers of the era that would've been used to produce everything from pop hits to soundtracks.
Synth-Rack #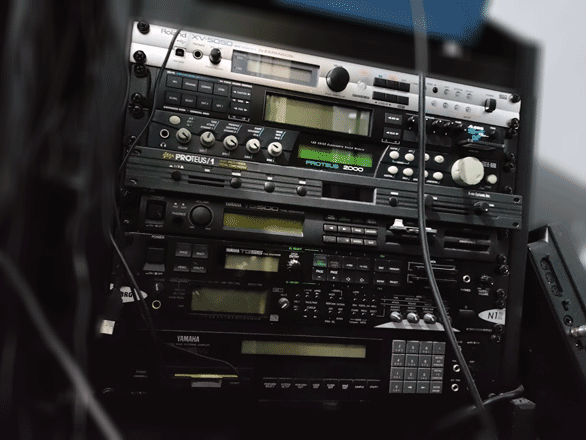 This is the current synth rack, it hasn't changed since 2022 as of writing this (aside from being tidier!)
Roland XV-5080 (expanded with World Collection and Supreme Dance)
Alesis S4+ (with Eurodance PCMCIA card and a flash one to use any ROMs)
E-Mu Proteus 2000 (equipped with Composer, ZR-76, Protozoa and XL-7. My favourite synth!)
E-Mu Proteus/1 (with Protologic expansion board)
Yamaha TG500 (1mb of NVRAM and Datablade from sector101)
Yamaha TG55 (with Rock/Pop, Syn Wave 1, Drums and other cards)
KORG N1/R
Yamaha TX16W (12-bit sampler with 6mb of RAM installed)
Mixing area #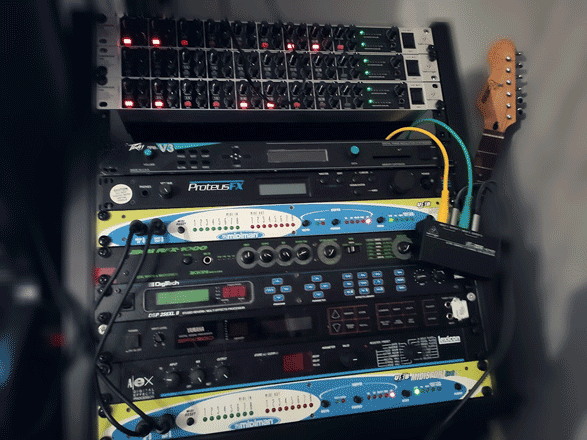 Over here is the top half of the rack. This includes all of my outboard mixing gear, as well as the MIDI interfaces that hook everything up to my computer! You can also see my guitar in the back of this picture, which I keep handy for jamming and recording riffs on.
Behringer RX1602v2 mixer (x3)
Peavey DPM V3
E-Mu Proteus FX
MIDISPORT 8/8s (x2)
Zoom RFX-1000 multi-effects unit
Digitech DSP 256XL II multi-effects unit
Yamaha SPX-50D multi-effects unit
Lexicon Alex multi-effects unit
Desk area #

On the top of my desk are the synths that just don't seem to fit anywhere else nicely, but these are some of my all-time favourites to use. Especially the Yamaha A4000, this sampler has changed the way I write music in MIDI and is so much easier to use than the old TX16W. Zip-disks are still handy over here!
Alesis NanoPiano
Alesis NanoBass
Yamaha A4000 sampler (4GB partitioned CF card, ZuluSCSI with CD images of classic libaries)
Yamaha TG77 (with DataBlade and WaveBlade from sector101)
Yamaha TG33
Viscount MF-01
Roland D-110
Yamaha TG300
Yamaha TG100
Edirol Studio Canvas SD-80
DTM Stack #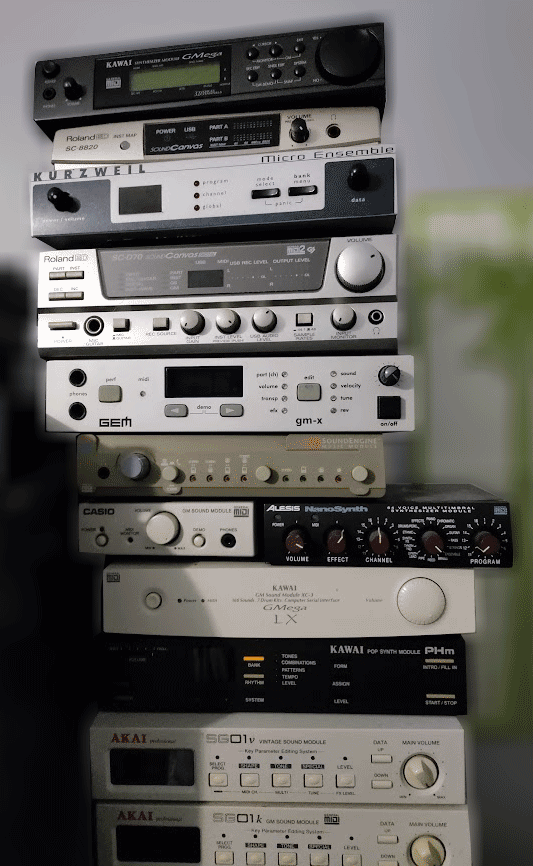 Finally, here are all of the half-rack modules that I use for my music. Funnily enough I use these about as much as the full rack sized synths.
Kawai G-Mega
Roland SC-8820
Kurzweil ME-1
Roland SC-D70
GEM GM-X
E-Mu Sound Engine
Casio GZ-50m
Alesis NanoSynth
Kawai G-Mega LX
Kawai PHm
Akai SG01V
Akai SG01K